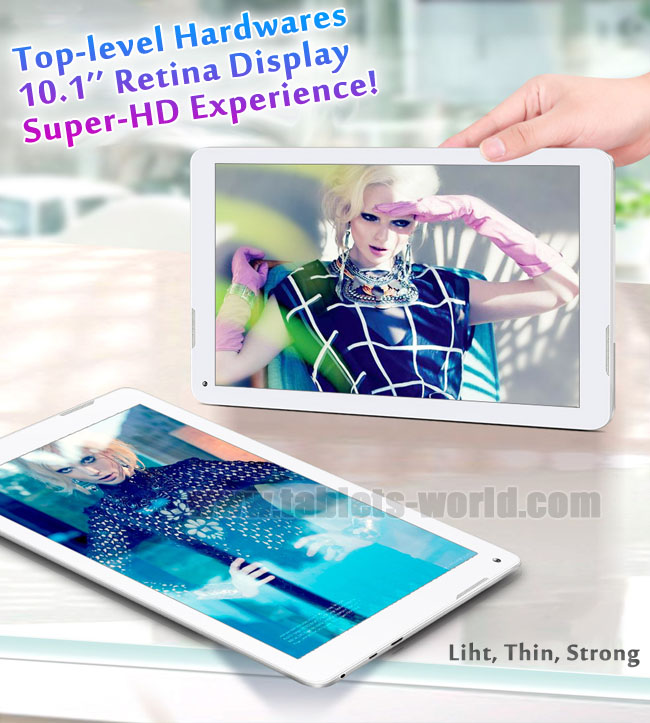 Extreme Excellent Performance
28nm Top-level Quad-Core Fluent Experience
Teclast P11HD
Android tablet
chooses leading 28nm RK3188 based on quad-core ARM Cortex-A9 CPU. Thanks to the 28nm advanced technology, it has up to 1.6GHz high processor speed and makes it has very good performance with low power consumption. Compared with 40nm products, it has 20% lower power-consumption.

1.6GHz Cortex-A9 4-Core
One of the Fastest Processor
Many of those
tablet PC
in the market are using Cortex-A7 processor, though it has low power consumption, but too old technology makes it has low processor speed. While quad-core RK3188 used on Teclast P11HD based on more advanced Cortex-A9 program. The operational performance is 1.35 times faster than normal tablets.

2GB Large DDR3 RAM
Dual-Channel Great Performance
Teclast P11HD quad-core comes with 2GB super large RAM, which is two times than most of the mainstream tablets in the market. It has apparent superiority while playing games, surfing web pages or opening big files.

16:10 Golden Ratio
Choose 10.1 inch to Watch Movies
The mainstream and latest movies have already start to use golden ratio to make. It would not have the perfect performance if still use 4:3 display to watch. The 16:10 display used in Teclast P11HD quad-core is excellent to watch movies.

Retina IPS HD Display
Vivid and Shocking Performance
Teclast P11HD quad-core
Android tablet
has a 1920*1200 super high resolution retina 10.1 inch display. It is full angle of view, vivid and colorful IPS display.

Quad-Core GPU
Freely Play big 3D Games
The GPU integrated in Teclast P11HD is quad-core Mali400. The powerful GPU allows the tablet to play big 2D/3D games more fluently.

Support Bluetooth Wireless connection
Easily and Freely share with other Devices
P11HD quad-core builds-in Bluetooth mode. It can connect with other bluetooth headset, bluetooth keyboard/mouse wireless. And can also connect with other bluetooth devices to transfer files.

First-Class Design
Well designed in Details
Teclast P11HD quad-core uses brand new model. The thickness is controlled to 8.5mm only. And the frame is also descreased to 11.5mm only. What's more, in order to increase the performance of the speakers, the two speakers are put in front of the panel.


5.0MP HD Camera
with Flash Light and Auto-focus function
Teclast P11HD quad-core has a front 2.0MP and rear 5.0MP dual cameras design. And the rear camera not only supports AF auto-focus function, it also has flash light which makes it have good performance even in dark situation.

Picture-in-Picture function
Working while Watching movies
Teclast P11HD quad-core runs the new Android 4.2 Jelly Bean smart operating system, which is specially optimized for quad-core processor. It supports "picture-in-picture" advanced function. It can allow user to watch videos while surfing internet, doing paper work etc at the same time.

G+G Responsive Touch Experience
Smooth and Accurate
Teclast P11HD uses the 3rd generation G+G capacitive touchscreen.The touch experience has jumped to a new level!

10-point Multi-touch Support
Zoom in and out Freely
Teclast P11HD quad-core uses 10-point mutli touchscreen. The touch is more accurate compared with those 2-point or 5-point touchscreens.

1080P FULL HD
H.264, WMV, AVI, MPEG4 etc kinds of Files support
Teclast P11HD quad-core can smoothly play 1080p Full HD videos, and also support 720P,480P etc different resolution files. And it supports H.264, avi,mp4, rm, rmvb and so on kinds of formats video files.

HDMI 1.4 Output
build your own media center
Teclast P11HD quad-core has HDMI output port. It allows to connect to HD tv or other projector to play movies, games and so on.

Support OTG Function
directly connect with other USB devices
Teclast P11HD quad-core supports OTG function, which allows the tablet to connect to other keyboard, mouse, usb flash and so on usb devices!

WiFi/ external 3G,Ethernet
multiple Internet Connections
Teclast P11HD quad-core not only supports wifi wireless internet connection. It also supports external 3G modem (i.e. Huawei E1750) and Ethernet adaptor to have multiple internet connection ways.

| | | |
| --- | --- | --- |
| | P11HD | other cheap tablets |
| Operating System | Android 4.2.2 | Android 4.0/4.1 |
| Display | 10.1 inch | 10.1 inch |
| Definition | 1920*1200 (very clear) | 1024*600 (fuzzy) |
| Touchscreen | Retina IPS (large angle of view, sensitive, vivid, bright) | normal Capacitive (bad angle of view, dark) |
| CPU | Quad-Core | single-core/dual-core |
| RAM | 2GB DDR3 | 512MB DDR |
| Storage | 48GB (internal 16G+SD 32G) | 4GB/8GB/16GB |
| WiFi | | |
| Cover | strong Metallic back cover | all plastic |
| HDMI | | NO |
| Thickness | 8.5mm only | over 12mm |
| Bluetooth | | NO |
| Cameras | front & rear Dual cameras (rear 5.0MP with flash light and auto-focus) | front single camera (0.3MP, very un-clear, impossible to take good picture in dark areas) |
Product Extra Free Gifts Pack



All the great Bundle now for FREE!