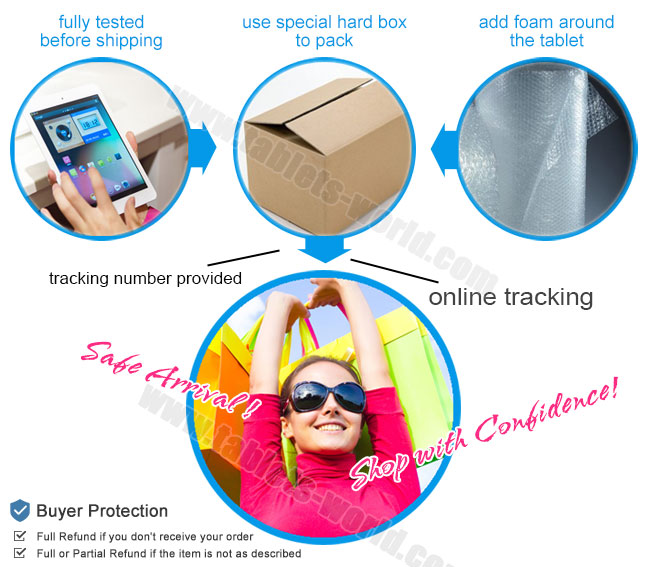 1 × Ramos X10 mini Pad Quad Core 16GB edition
1 × User Manual
1 × USB cable
1 × Wall Charger(worldwide compatible with adaptor)
1 × Leather Case Cover
1 × 16GB Micro-SD TF Card
1 × 8 inch Soft Bag
1 × Car Charger
1 × HDMI Cable
1 × Capacitive Touch Pen Stylus
1 × Headphone Cable Winder
1 × Micro-SD TF Card reader
1 × Display screen clean Cloth
1 × Free Ebooks Pack
1 × Free Applications Pack
1 × Full Tech Support
1 × 12-month Manufacturer Warranty

Powerful Processor

ARM Cortex-A9 Quad-Core CPU high processor speed! 4 times speed performance improved. But low power consumption to ensure the long battery life!

Quad-Core GPU

Ramos mini Pad X10 also comes with strong quad-core GC1000 GPU, which can easily to handle 2D,3D big games and multi-tasks!

Fast internal RAM

1GB dual-channel DDR3 RAM and on-board 16GB internal storage can provide fast performance to run multiple tasks and applications!

7.85 inch IPS display

7.85'' 1024*768 pixel high definition HD IPS Capacitive display, multi-touch support. And wide angle of view!

Dual Cameras

Ramos mini Pad X10 comes with Front 2.0MP and Rear 5.0MP two cameras design. Sharing your daily life with pictures/videos and having online video chat more convenient!

Wi-Fi wireless

Built-in high speed WiFi wireless mode. 802.11 b/g/n WLAN support!

USB sharing&charge

Simply connect and disconnect many devices to your tablet such as keyboards and memory sticks. You can also transfer files, videos, and music from your computer to your tablet very quickly
Advanced Quad-Core CPU
From ARM Cortex-A9 quad-core Series
include ARM NEON SIMD engine
DVFS CPU dynamic frequency Technique
MPE and ThumbEE program



IPS Full Angle of view
Vivid and Clear display
Ramos mini Pad X10
Android Tablet
uses a high definition (1024*768pixel) IPS display. It supports multi-touch and full ange of view. The ips display is fast response and high-quality color reproduction! So far, it is one of the best display for
tablet computers
!
The 1024px wide touchscreen used can load fully the content of web pages! Making your surfing internet experience the most convenient
Dual Cameras build-in
front 2.0MP + rear 5.0MP
The rear camera in the back of Ramos
mini Pad
X10 is 5.0 mega pixel with auto-focus supporting! Thus make you able to take clearer and more beautiful photos!
The front 2.0 mega pixel camera is very helpful while chatting with friends,families! The Skype video call is supported!
GC1000 Quad-Core GPU
Ramos X10 mini pad
Android Tablets
uses GC1000 quad-core GPU, which can fluently run most of the 2D,3D games!.
support up to 4K super-HD movies
Ramos X10 mini pad supports to pay movies at the same time with 6 windows. and with the powerful hardware, it supports up to 4K (4096*2160p) SUPER-HD movies!.

HDMI output support
Via the mini HDMI port in Ramos X10 miniPad, you can connect the tablet with a HD TV to watch movies or play games in big display!
Rich OTG functions
The OTF functions allow you to connect the tablet with external USB mouse, keyboard, 3G dongle, USB flasher and so on devices!







Product Extra Free Gifts Pack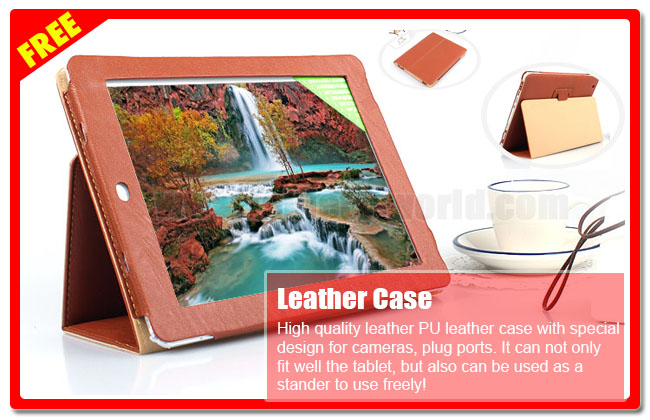 Product Extra Free Apps Pack





















$24.95!!

HD English Edition

$28.00!!

HD English Edition

$24.99!!

HD English Edition
ITEMS
Ramos mini Pad X10 quad core 16GB edition
Operating System
Google Android 4.1 jelly bean
Display
7.85 inch
Resolution
1024*768 pixel
Touchscreen

IPS

Capacitive multi-touch screen
CPU
ARM Quad-Core cortex-A9
Memory
1GB DDR3 RAM
Storage
32GB (internal 16GB+external 16GB sd card)
Wi-Fi
support;IEEE 802.11 b/g/n WLAN wireless
3g
support;external 3G modem
Audio
Stereo speakers;built-in microphone
Audio Format
aac,mp3,wav,wma etc.
Video Format
MKV,WMV,MPG,MPEG,DAT,AVI,MOV,TS,MP4 etc.
HD movies
4K;1080P;720P etc.
Expansion Ports
micro-sd; micro-USB; 3.5mm headphone
Camera
Front 2.0MP+ Rear 5.0MP dual cameras
Expansion Storage
Support;up to 32GB T-flash/micro-SD card
Dimension
200*138*8.8mm
Weight
361.5g
Color
White; metallic back
G-sensor
support
HTML5
support
Adobe Flash Player
support;Flash player 11
Languages
Afrikaans; Amharic; Bahasa Indonesia; Catala; Dansk; Deutsch; English; Espanol; Francais; Hrvatski; Italiano; Latviesu; Lietuviu; Magyar; Malay; Nederlands; Norsk bokmal; Polski; Portugues; Rumantsch; Suomi; Svenska; Swahili; Tagalog; Tieng Viet; Zulu; Chinese etc.
Tablets are widely used around the World!




















What items included in this package
1 × Ramos X10 mini Pad Quad Core 16GB edition
1 × User Manual
1 × USB cable
1 × Wall Charger(worldwide compatible with adaptor)
1 × Leather Case Cover
1 × 16GB Micro-SD TF Card
1 × 8 inch Soft Bag
1 × Car Charger
1 × HDMI Cable
1 × Capacitive Touch Pen Stylus
1 × Headphone Cable Winder
1 × Micro-SD TF Card reader
1 × Display screen clean Cloth
1 × Free Ebooks Pack
1 × Free Applications Pack
1 × Full Tech Support
1 × 12-month Manufacturer Warranty

Carry said:
Great tablet pc
Great product does all it should good service, only shipping takes bit long. thanks.

Tablets World replied:
Thanks
Dear Carry, thanks for your review. We are sorry about the delay for shipment. Best Regards!