1 × Ramos i9 8.9'' Intel CPU Android 4.2 Tablet
1 × User Manual
1 × USB cable
1 × Wall Charger(worldwide compatible with adaptor)
1 × 32GB Micro-SD TF Card
1 × Leather Case Keyboard
1 × 9.0 inch Soft Bag
1 × Touch Pen
1 × Android mini Robot
1 × Car Charger
1 × Display Clean Cloth
1 × Earphone Cable Winder
1 × Free Ebooks Pack
1 × Free Applications Pack
1 × Full Tech Support
1 × 12-month Manufacturer Warranty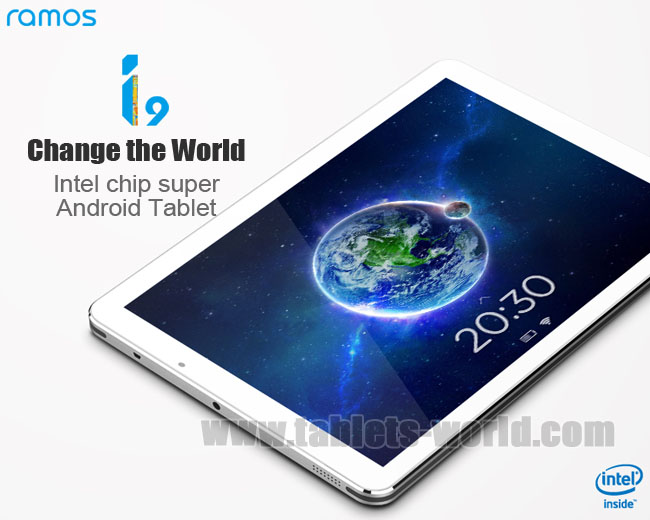 The 1st Dual Glass Android Tablet
It is a brand new model used on Ramos i9. Unlike many other Android tablets still have very similar design, i9 used dual glass super special design.

The dual glass panels with metal silver frame, Ramos i9 tablet pc looks quit beatiful and fashionable.

The 8.9 inch original IPS touchscreen used on Ramos i9 has great performance under full angle of view. The 1920x1200 super high definition makes it look very clear and vivid! Such HD display makes your eyes feel so good to look at!

Touching on Ramos i9 is also very responsive and accurate. The using experience is excellent.

Ramos i9 uses Intel Z2580 dual-core CPU, which has up to 2.0GHz high processor speed. The performance is able to beat most of the quad-core CPU in the market. Intel is the leader in computers, in tablets, it also brings strong performance.

Good Applications Compatibility
The intel CPU inside i9 tablet pc not only makes the operation much more fluent, the applications/games compatibility is also very good.

While many other tablets still just make the CPU look good, but not care about the sound effects, Ramos i9 also comes with top-level sound effects stereo dual speakers!

10 Hours Long Battery Life
Though Intel chipset gives high performance, but the power-consumption is low. Thus it makes the tablet have longer battery life performance!

Front and Rear Dual Cameras
Ramos i9 Android tablet has a front 2.0 mega pixel camera and also a 5.0 mega pixel rear camera. The rear camera supports auto-focus.

Not only WiFi, also has WiDi
Ramos i9 not only supports WiFi connection, it also supports WiDi wireless connection with TV to have real-time show.

Product Extra Free Gifts Pack



Tablet Real Shots








1 × Ramos i9 8.9'' Intel CPU Android 4.2 Tablet
1 × User Manual
1 × USB cable
1 × Wall Charger(worldwide compatible with adaptor)
1 × 32GB Micro-SD TF Card
1 × Leather Case Keyboard
1 × 9.0 inch Soft Bag
1 × Touch Pen
1 × Android mini Robot
1 × Car Charger
1 × Display Clean Cloth
1 × Earphone Cable Winder
1 × Free Ebooks Pack
1 × Free Applications Pack
1 × Full Tech Support
1 × 12-month Manufacturer Warranty