1 × Teclast P98t Quad-Core 9.7'' Android Tablet PC
1 × User Manual
1 × USB cable
1 × Wall Charger(worldwide compatible with adaptor)
1 × 32GB Micro-SD TF Card
1 × 9.7 inch Leather Case Keyboard
1 × 9.7 inch Soft Bag
1 × Touch Pen
1 × HDMI Cable
1 × Car Charger
1 × Display clean Cloth
1 × Earphone Cable Winder
1 × Free Ebooks Pack
1 × Free Applications Pack
1 × Full Tech Support
1 × 12-month Manufacturer Warranty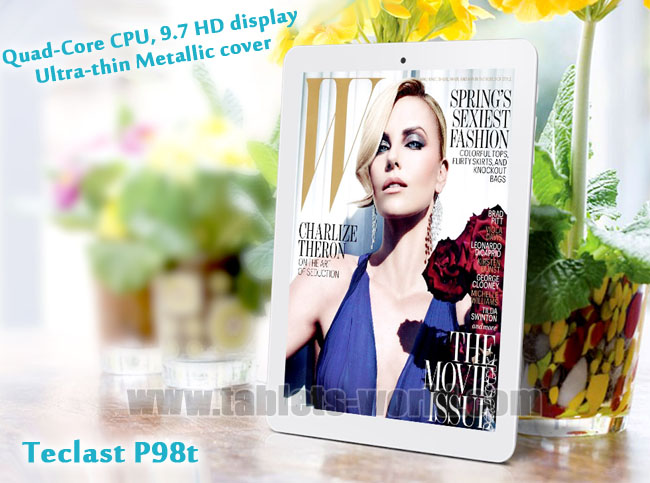 4 sceonds Fast Boot
more Stable, Faster, lower Power-consumption
Teclast P98t quad-core
Android tablet
has 4s fast turn-on function. While the normal tablets would cost over 15 seconds to be able to turn on! And the Android 4.2.2 jelly bean operating system used is more stable, faster with lower power consumption!

1 seconds Rotation
more Wonderful using experience
With the deeply customized and optimized Android 4.2 system, Teclast P98t quad-core has 1 seconds to rotate and wakeup from sleep mode. It makes the using experience more convenient!

Bright 9.7 inch Display
Top-level Performance
Teclast P98t quad-core uses standard 4:3 9.7 inch display. The display is not only big size, but also has very good color and brightness performance! It brings you to a new level touch feelings.

G+G Capacitive Touchscreen
Responsive, Accurate, Fast
P98t quad-core tablet computer uses glass+glass dual levels capacitive touchscreen. Unlike the plastic display, the touch on glass is responsive, accurate and fast.

10-point Multitouch support
Zoom in and out easily
Teclast P98t quad-core
Android tablet
uses new generation multi touch capacitive touchscreen. It supports up to 10 point touch at the same time! The multitouch function makes the web surfing convenient to use.

1080P FULL HD
Multiple video formats support
P98t quad-core tablet can play 1080P full hd videos fluently. And it supports H.264, WMV, AVI, MPEG4 etc kinds of formats video files!

Front and Rear dual cameras
Skype Video Chat support
P98t has a front 0.3MP and a rear 2.0MP two cameras. They can be used to take photos, record videos, have skype/qq video call freely!

the 3rd generation Li battery
Longer battery life
Teclast P98t quad-core tablet pc builds-in 7000mAh big size 3rd generation li battery. With the Android 4.2 low power consumption system, it can have much better battery performance!

with HDMI 1.4 port
connect with HD TV
Teclast P98t quadcore tablet has micro-HDMI connection port. It can be used as video player to connect to HD tv etc.

support OTG function
connect to external USB devices
Teclast P98t quad-core tablet supports OTG function, it can easily connect with external keyboard, mouse, usb flasher etc USB devices!

WiFi wireless connection
support external 3G/Ethernet
Teclast P98t quad-core android tablet not only builds-in wifi wireless internet connection mode, it can also supports external 3G dongle and ethernet adaptor!

Thousands of Free Applications
full version Google Play
Teclast P98t Android tablet has full version google play app pre-installed, it allows you accessing thousands of applications!

Product Extra Free Gifts Pack



All the great Bundle now for FREE!
1 × Teclast P98t Quad-Core 9.7'' Android Tablet PC
1 × User Manual
1 × USB cable
1 × Wall Charger(worldwide compatible with adaptor)
1 × 32GB Micro-SD TF Card
1 × 9.7 inch Leather Case Keyboard
1 × 9.7 inch Soft Bag
1 × Touch Pen
1 × HDMI Cable
1 × Car Charger
1 × Display clean Cloth
1 × Earphone Cable Winder
1 × Free Ebooks Pack
1 × Free Applications Pack
1 × Full Tech Support
1 × 12-month Manufacturer Warranty