1 × Onda V975 9.7 Retina Quad-Core Android tablet
1 × User Manual
1 × USB cable
1 × Wall Charger(worldwide compatible with adaptor)
1 × 32GB Micro-SD TF Card
1 × Leather Case Keyboard
1 × Soft Bag (random color)
1 × Touch Pen
1 × Android mini Robot
1 × Tablet mini Stander
1 × Display Clean Cloth (random color)
1 × Cable Winder (random color)
1 × Free Ebooks Pack
1 × Free Applications Pack
1 × Full Tech Support
1 × 12-month Manufacturer Warranty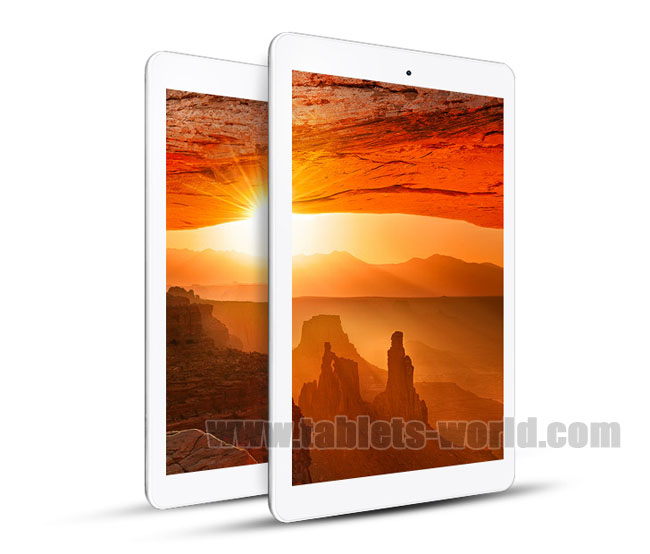 12.8mm Super Narrow Frame
Amazing Design
12.8mm only frame width is a miracle to 9.7 inch Android tablets. This is a breakthrough the even iPad has not made. Onda V975 9.7 inch tablet looks very exquisite.


Beyond the Ultra-thin standard
8.3mm Only Thickness
Onda V975 also controls the thickness to a brand new level, 8.3mm only thickness is also a great design among the tablets market! 560g light weight of a big 9.7 inch tablet is so convenient to use!

the Details decide the Quality
the Top-level Technology in the World
Onda V975 does not use total cheap plastic, it uses metallic back cover. It not only gives the tablet much better touch feeling, but also good for heating! Every details are very well designed!

9.7 inch Super-HD Retina Display
iPad 4 Same Definition 2048*1536
Onda V975 is large tablet with 9.7 inch size big display. And unlick the normal capacitive display, V975 Retina display has much better angle of view, responsive touching, vivid images features and the most impressive with 2048*1536 super high definition!

new Allwinner A31 Quad-Core CPU
Fully improved Performance
Newer, Stronger, Power Saver! Onda v975 uses the latest A31 quad-core CPU from Allwinner technology, it based on ARM Cortex-A7. It gives high performance but with very low power-consumption!

8-Engine PowerVR GPU
up to 5000 3DMark score
Onda V975 uses PowerVR SGX544MP2 powerful GPU, which is also the choice of iPad4. It gives much better 3D, games, internet and so on performance

Front & Rear Dual Cameras
rear 5.0MP Camera supports Auto-focus
Onda v975 has front 2.0 mega pixel and rear 5.0 mega pixel dual hd cameras design. And the rear camera also supports auto-focus. The cameras allow you to take photos, record videos and start video chat with friends/family more easily and happily!

2160 Super-HD movies
build-in HDMI output
Onda v975 tablet pc supports up to 3840*2160 resolution super HD movies. And it also has HDMI output slot!

Miracast wireless Technology
Onda v975 also supports Wi-Fi Display wireless connection technology.

| | | |
| --- | --- | --- |
| | V975 Quad-Core | other cheap tablets |
| Operating System | Android 4.4 | Android 4.0/4.1 |
| Display | 9.7 inch | 9.7 inch |
| Definition | 2048*1536 (Super clear, Retina Display, the highest resolution tablet at the moment!) | 1024*768 (fuzzy) |
| Touchscreen | the 3rd generation IPS (large angle of view, sensitive, vivid, bright) | normal Capacitive (bad angle of view, dark) |
| CPU | Quad-Core | single-core/dual-core |
| RAM | 1GB DDR3 | 512MB DDR/1GB |
| Storage | 48GB (internal 16G+SD 32G) | 4GB/8GB/16GB |
| WiFi | | |
| Cover | strong Metallic back cover | all plastic |
| HDMI | | NO |
| Thickness | 8.3mm Only | over 12mm |
| 4K(4096*2160) | | NO |
| Cameras | front & rear Dual cameras (5.0MP rear) | front single camera(only 0.3MP or 2.0MP) |
| Battery | 8000mAh | 5000mAh |



All the great Bundle now for FREE!








1 × Onda V975 9.7 Retina Quad-Core Android tablet
1 × User Manual
1 × USB cable
1 × Wall Charger(worldwide compatible with adaptor)
1 × 32GB Micro-SD TF Card
1 × Leather Case Keyboard
1 × Soft Bag (random color)
1 × Touch Pen
1 × Android mini Robot
1 × Tablet mini Stander
1 × Display Clean Cloth (random color)
1 × Cable Winder (random color)
1 × Free Ebooks Pack
1 × Free Applications Pack
1 × Full Tech Support
1 × 12-month Manufacturer Warranty