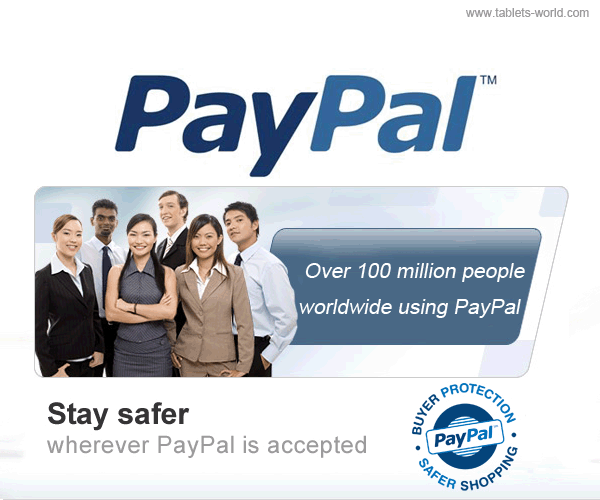 The payment in tablets-world.com is powered by PayPal!
PayPal is the safer, easier way to pay and get paid online. The service allows anyone to pay in any way they prefer, including through credit cards, bank accounts, buyer credit or account balances, without sharing financial information.
PayPal has quickly become a global leader in online payment solutions with more than 153 million accounts worldwide. Available in 190 markets and 24 currencies around the world, PayPal enables global ecommerce by making payments possible across different locations, currencies, and languages.
PayPal has received more than 20 awards for excellence from the internet industry and the business community -most recently the 2006 Webby Award for Best Financial Services Site and the 2006 Webby People's Voice Award for Best Financial Services Site.
Located in San Jose, California, PayPal was founded in 1998 and was acquired by eBay in 2002.
Privacy to Fight Identity Theft
Shop without sharing financial information with sellers. Your privacy is also safeguarded with:
Data Encryption
Safeguarding your financial and personal information is one of our most important priorities. That's why we automatically encrypt all sensitive information sent between your computer and our servers.
Your computer:
When registering or logging in to our site, we verify that your internet browser is running Secure Sockets Layer 3.0 (SSL) or higher.
In transit:
Information is protected by SSL with an encryption key length of 168 bits (the highest level commercially available).
PayPal servers:
Your personal information is stored on our servers and heavily guarded, both physically and electronically. To further shield your credit card and bank numbers, we do not directly connect our firewall-protected servers to the internet.
Identity Protection
PayPal works 24/7 to help safeguard your privacy and protect your identity by using advanced technology and vigilant monitoring.
.If you get an email that may be fraudulent, alert us by forwarding it to
spoof@paypal.com
.
.PayPal lets you shop without sharing your bank or credit card account numbers with the merchant.
.PayPal provides free Equifax Credit Alerts to all U.S. customers, giving you peace of mind with early warnings of potential identity theft.
.We deploy fraud prevention technology that monitors transactions for suspicious activity.
.We work with law enforcement to assist in apprehending and prosecuting fraudsters and to identity thieves.
Prevention to Help Stop Fraud
Feel secure knowing our extensive fraud-prevention program includes:
State-of-the-Art Technology
As a leader in anti-fraud technology, we use state-of-the-art fraud prevention to help stop online crime.
We protect you from any unauthorized payment sent from your PayPal account whether the purchase was made on or outside eBay. Here's how it works:
.We send an email confirmation for every online PayPal payment that you make.
.If you find a transaction that you didn't approve, report it to us within 60 days.
.We will launch an investigation.
.You will be covered by our Unauthorized Transactions Program.
24/7 Transaction Monitoring
Our team of over 2,000 fraud-fighters is working around the clock to keep your sensitive information secure. Our experts will:
.Contact you immediately if we suspect fraud in your account.
.Work with authorities to shut down fraudulent websites.
Industry-leading Fraud Prevention
Every transaction is reviewed by industry-leading, proprietary fraud prevention measures that help weed out fraudulent activity.
PayPal Verification
We ask account holders to get Verified to make sure that they are owners of the credit cards or bank accounts linked to their PayPal accounts.
Protection for Your Purchases
Get 100% protection against unauthorized payments sent from your account and get additional coverage for your transactions from purchase protection programs.
Multiple Currencies
Buy globally with PayPal's Multiple Currencies feature. Use your current PayPal account to make payments in:
Canadian Dollars
Euros
British Pounds
U.S. Dollars
Japanese Yen
Australian Dollars
New Zealand Dollars
Swiss Francs
Hong Kong Dollars
Singapore Dollars
Swedish Kronor
Danish Kroner
Polish Zlotys
Norwegian Kroner
Hungarian Forints
Czech Koruny
Israeli Shekels
Mexican Pesos
Brazilian Real (only for Brazilian members)
Malaysian Ringgits (only for Malaysian members)
Philippine Pesos
New Taiwan Dollars
Thai Baht
TRY for Turkish Liras (only for Turkish members)
If there is any questions you may consider,please don't hesitate to
contact us
.